July 11, 2011 – 6:07 pm
Top 7 HubSpot E-Books & Inforgraphics
Do you ever feel like hiding under your desk when you do a Google search on a topic and receive tens of thousands of search results back?  I do.  It can be quite overwhelming when you are trying to educate yourself on the latest research in a particular field and stay on top of your game.   For my social media needs, a resource I have found to be consistently useful and valuable is HubSpot.  For those of you who don't know, HubSpot's mission is to:
Provide a (killer) marketing application and provide great advice to small businesses enabling them to leverage these disruptive effects of the internet to "get found" by more prospects shopping in their niche and to convert a higher percentage of prospects into customers.
I've written about various HubSpot webinars  (read a previous post here) before but I also want to share the many e-books and other resources they offer that will help you know what's what in social media.  I've taken what I think is the best of the best and summarized my top 7 HubSpot e-books and other resources (one infographic I love).  They are:
#1. 100 Awesome Marketing Stats Charts & Graphs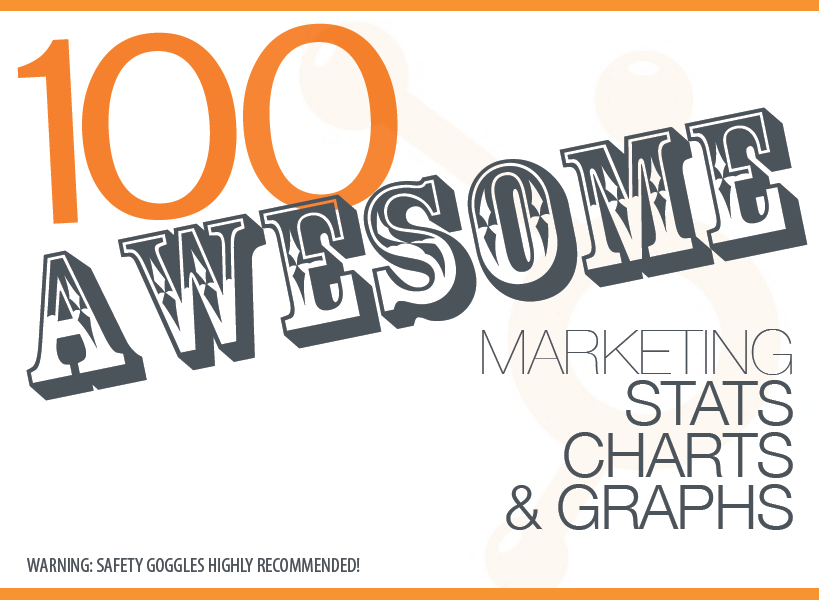 This E-book reads like a video by being able to easily click through at a fast pace but gain valuable information at the same time.  If you want to be entertained and showered with valuable marketing knowledge, definitely look into downloading this HubSpot E-book.
#2.  101 Awesome Marketing Quotes.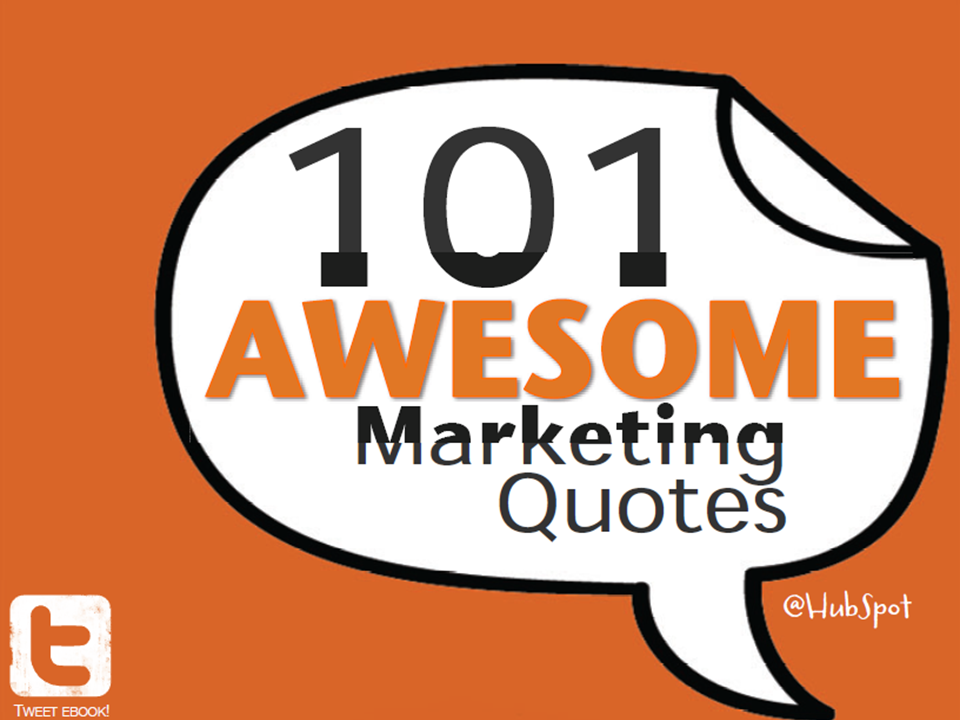 If you need some inspiration and quick insightful advice, then check out HubSpot's "101 Awesome Marketing Quotes."  HubSpot collects these amazing quotes in a tasteful, engaging and artful fashion.  My favorite is, "There are no magic wands, no hidden tricks, and no secret handshakes that can bring you immediate success, but with time energy and determination you can get there." -Darren Rowse, Founder, Problogger.
#3.  5 Scientifically Proven Ways to Gain More Followers

Dan Zarella, a valuable player from HubSpot (and who produces stellar webinars and studies), developed this very useful infographic which lays out some fundamental principles to gain more Twitter followers.  I received this infographic in an email Dan sent out earlier this year and stashed it away for further reference.  I'm a big fan of infographics since they deliver information in a concise, creative and intuitive way.
#4.  The Marketing Data Box: A Quarterly Collection of Practical Marketing Tools for Professional Use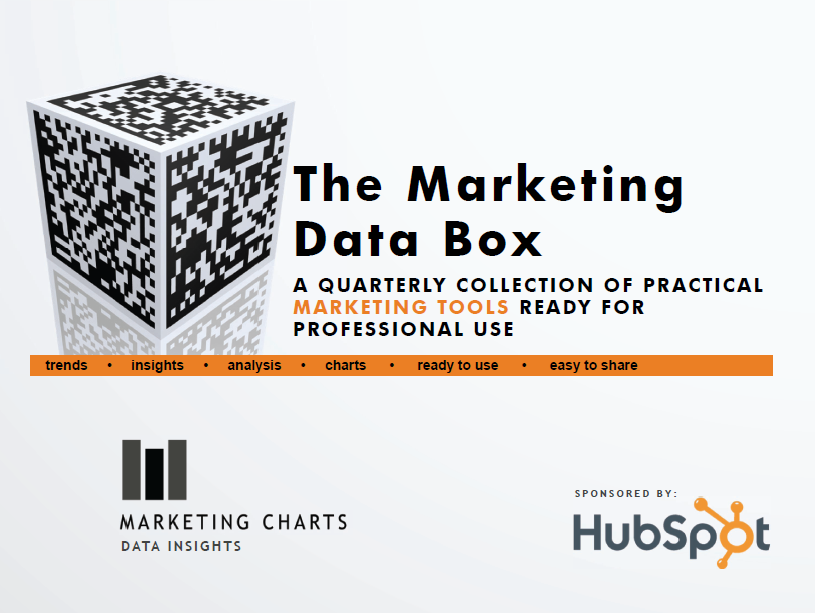 This HubSpot E-Book is a goldmine of information if you are doing research on what audiences and mediums to focus your marketing efforts on.  As mentioned in the title, this information is quarterly and contains the most recent data on essential information currently out there in the marketing world.  As expected, the data is presented in clear, easy to read charts and graphs.  I would expect nothing less from HubSpot :-).
#5.  How to Use Twitter for Business: An Introductory Guide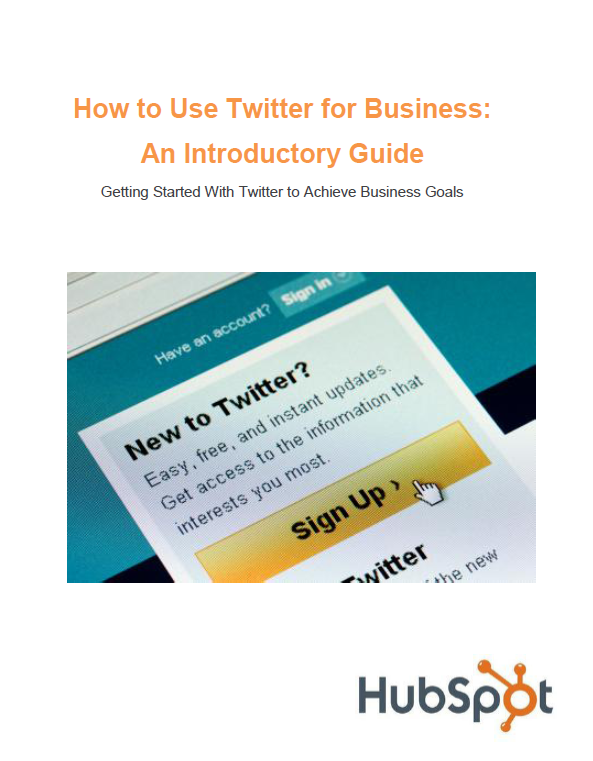 Featured as one of HubSpot's latest E-books, this pick gives away their secret sauce by informing newbie Tweeters how to easily set-up their Twitter accounts to effectively leverage this platform as a business productivity tool.  I like how it deviates from the standard Twitter set-up to follow a more efficient process.  A great takeaway from this E-book is also the concept of a "Twitter Landing Page."  Definitely download this E-book to find out more.
#6.  2011 Online Marketing Blueprint:  A Multimedia Guide to Growing Your Business Online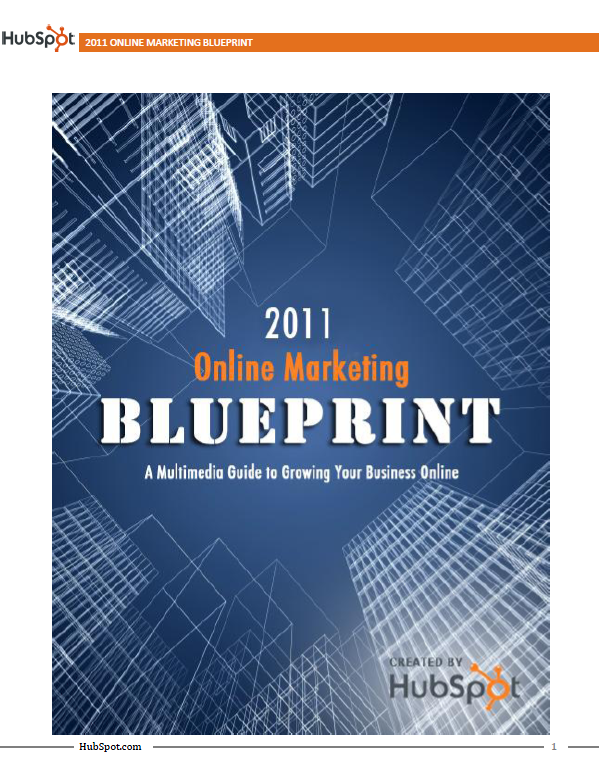 In this concise, 29 page E-Book, HubSpot provides a detailed yet brief overview of the various components that need to be working in order for an online marketing strategy to launch successfully.  This E-book includes interactive media by allowing readers to click on photos that lead them to short YouTube videos that further explains the concepts the blueprint is trying to convey visually.  One super useful tool talked about in the E-book is the HubSpot "Website Grader."  A free tool that explains various ways you can improve the functionality and visibility of your site.
#7.  Better Business Blogging in 2011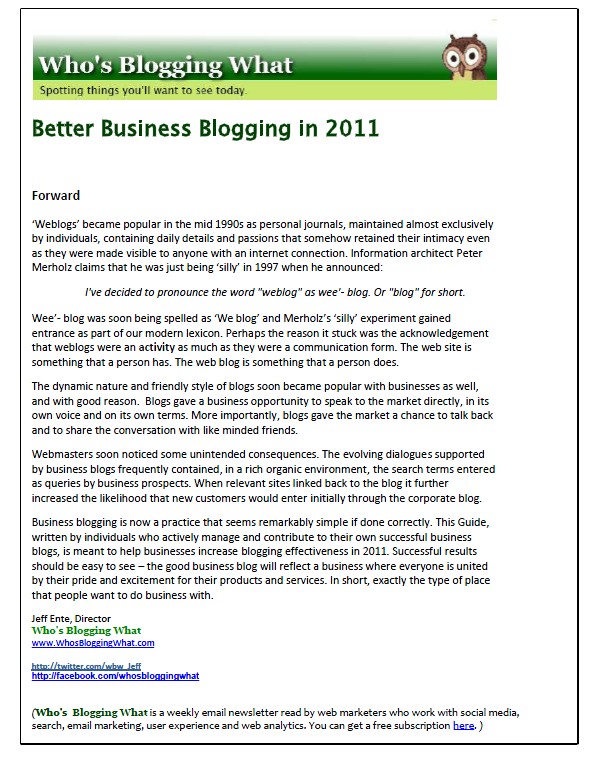 Get a crash course on blogging if you're just starting or see if you're on the right track if you already are blogging.  What I really like about this E-book is how each section is written by a different blogger.  There's a multitude of perspectives and best practices shared by bloggers who have been around the block a few times.  Plus there's short sections at the bottom to see what each author/blogger own blog.
So there you have it.  As I always like to say, (HubSpot) is the gift that keeps on giving.  What is also great about HubSpot is their genuine tone when providing E-books for people to read through.  There is very little sales pitch involved, so you definitely can trust you are receiving quality, worthwhile information.  Please share your previous experience with HubSpot and let your ROAR be heard!
Posted in Marketing, Social Media
|
Tagged 100 Awesome Marketing Stats Charts & Graphs, 101 Awesome Marketing Quotes, 2011 Online Marketing Blueprint: A Multimedia Guide to Growing Your Business Online, 5 Scientifically Proven Ways to Gain More Followers, Better Business Blogging in 2011, Dan Zarella, How to Use Twitter for Business: An Introductory Guide, HubSpot, HubSpot E-Books, HubSpot Infographics, Infographics, LinkedIn, Lion's ROAR Marketing, Social Media, The Marketing Data Box: A Quarterly Collection of Practical Marketing Tools for Professional Use