January 24, 2012 – 2:09 pm
9 Small Businesses Doing Social Media Right & What You Need to Know-Webinar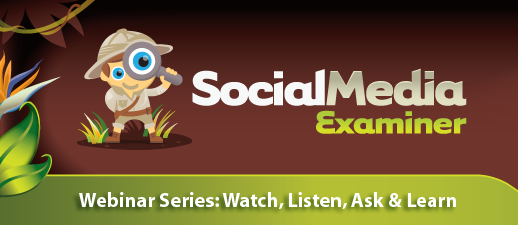 It has become common knowledge that Social Media has leveled the playing field for the Ma and Pa shops having a fighting chance at getting their message out to potential customers.  This concept is given further support through Michael Stelzner and Social Media Examiner's latest webinar, "9 Small Businesses Doing Social Media Right & What You Need to Know."  I was quick to sign-up for the webinar when I received an email from Social Media Examiner mentioning Stelzner's presentation.  I'm a small business (obviously) so this was right up my alley.
Stelzner always puts on a good presentation and is the authority on all things Social Media.  I always know I'm going to get my 60 minutes worth out of his webinars.  Now, Stelzner does allow participants in the webinar to download a free video of the webinar after the webinar and PDF version of the slides.  This content he usually charges for (so not uploading the video), but I want to give my take on the webinar without spilling all the beans.  The downloadable PDF of the slides are located at the bottom of the post however.
But seriously take advantage of when sign ups for the webinar are open.  You'll get the video and slides, which are great resources for future use.  Just sayin'.
To begin, two key statistics Stelzner shared at the beginning of the webinar included:
80% of all online Americans use social media (Nielsen)
Social media is affordable (Zoomerang) *obvious point but crucial in these tough economic times.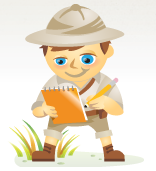 Here are the 9 Small Businesses Doing Social Media Right & What You Need to Know, according to Social Media Examiner and Michael Stelzner (in no particular order I assume):
Empowers community to share and encourages sharing similar experiences.
Give away your best information for free.
The Facebook Like Box allows site visitors to become Facebook Fans without having to leave the site.
Consistent branding, which is Marketing 101 J.
Mobile Apps are especially useful if a lot of content consists of podcasts.
They show their culture through pictures, which depicts and supports their branding.
Through contests this site has managed to rack up 1.5 million fans by requiring site visitors to like their page and the Island of Jamaica's page as a means to enter.
5.  SEOmoz
Use custom sharing buttons, which help social media efforts stand out from the rest (probably requires a web designer or web design skills).
Utilize social proof (the large number of Likes and Followers you've gained) to encourage people to be included in your social media networks.
Use pictures to showcase your work (seems obvious enough).
Uses new tool called Pinterest (an online clipboard).  Great sharing network for visual items.
8.  Social Media Explorer (Not to be confused with Social Media Examiner)
Features contributing authors.  This gives your social activity a personality.
9.  Orabrush
Great YouTube success story.  Dr. Bob Wagstaff invested $400 in making a YouTube about his Orabrush product which eventually resulted in 14 millions pagviews and $1.6 million in sales.  Moral of the story-use YouTube!
Stelzner also had a Q&A portion of his webinar.   One thing I wish he had answered fully was the question on how to communicate effectively with government audiences.  I found this difficult to get a grasp on while working as a government contractor for the U.S. Army.  One question he answered very simply and effectively was how to gain more fans on Facebook.  First step and easy solution: embed the like button on your site or blog
There also was a plug towards the end of the webinar for the 2012 Social Media Examiner Success Summit, which is currently priced at $579 to attend and starts February 1, 2012.  Learn more here.
If you also had the opportunity to catch Stelzner's webinar or have questions about his webinar(s), leave and comment and share your thoughts.  Let your ROAR be heard!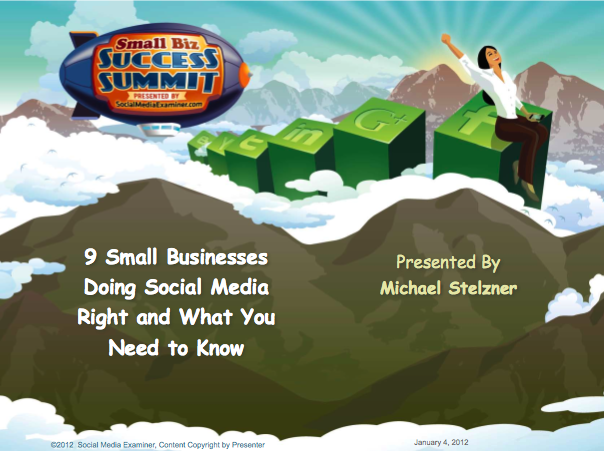 Posted in Social Media
|
Tagged 2012 Social Media Examiner Success Summit, 9 Small Businesses Doing Social Media Right & What You Need to Know, Ana White, Ana White Carpenter, Coconut Bliss, Dr. Bog Wagstaff, Easy Lunch Boxes, Jamaica's Music, Jarvie Digital Photography, JarvieDigital, LinkedIn, Lion's ROAR Marketing, Michael Stelzner, Orabrush, SEOmoz, Small Business Social Media Webinar, Small Business Webinar, Social Media Examiner, Social Media Examiner Success Summit, Social Media Examiner Webinar, Social Media Explorer, Social Meida Webinar, The Prospecting Expert