June 7, 2012 – 12:52 pm
Washington Blade Capital Pride Guide

It's Capital Pride in Washington DC this week! For those of you who don't know, Capital Pride is a two week long celebration (May 30-June 10) with cornerstone affairs such as the street festival and parade celebrating pride in the lesbian, gay, bisexual and transgender community. There's tons of events including Taste of pride, the Heroes Gala and Silent Auction and Jello Wrestling among tons of other fun happenings all produced by Capital Pride Alliance, Inc.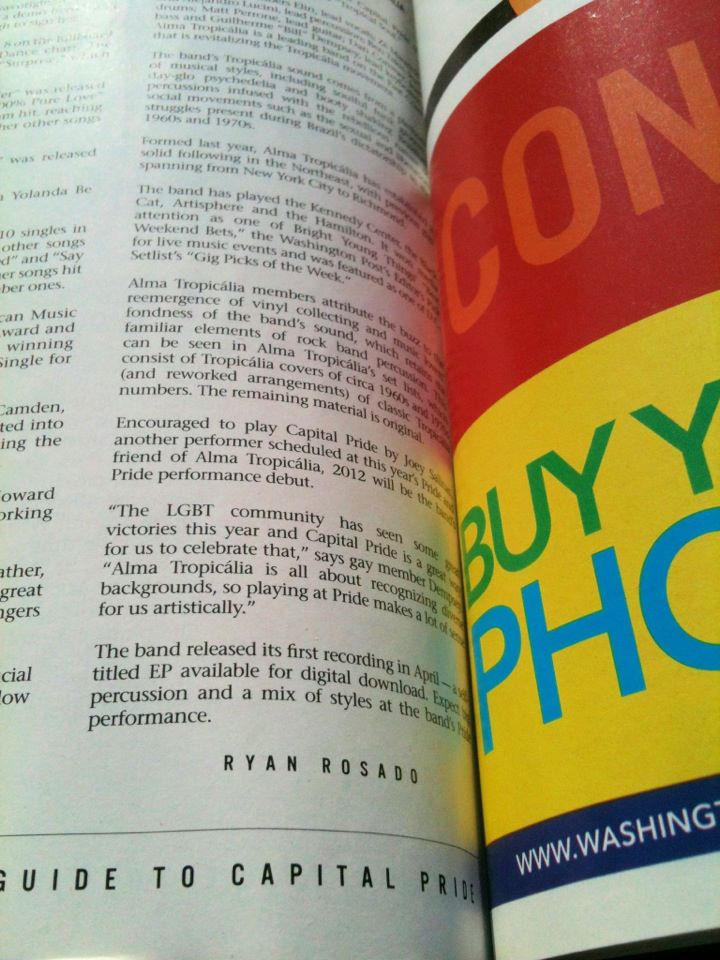 I have had the distinct pleasure to contribute to the official Capital Pride Guide produced by the Washington Blade; a very reputable news publications in the DC Metropolitan area. Back in early May, I was tasked by the editor of the Blade, Joey DiGuglielmo, to produce a profile on one of the bands playing during Capital Pride this year, Alma Tropicalia. Below is the Capital Pride Guide.  I'm on page 100!!!
Capital Pride PrideGuide
I just want to thank Joey for giving me this amazing opportunity to be a part of this wonderful cause for the DC LGBT community. I also want to thank Alma Tropicalia for their willingness to be a part of Capital Pride and their great enthusiasm throughout this process.  Be sure to take a look at the full Capital Pride Guide (a beautifully compiled publication) and Support Capital Pride this year and years to come! Viva La Pride!