February 6, 2012 – 3:57 pm
Viva La Madonna! Super Bowl Half Time Extravagenza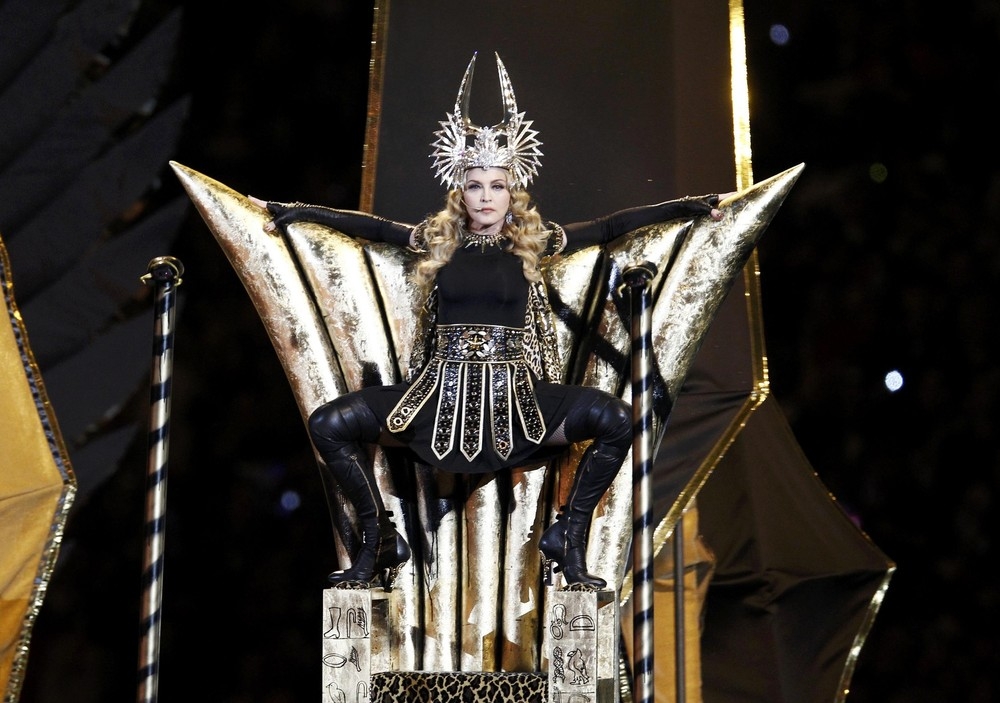 So I don't just usually post stuff like this but for those who don't know I LUV Madonna!  To me not only is she a great performance artist but a heck of a business woman.  Last night at the Superbowl XLVI she put on the what I think to be the best Halftime Show of all Halftime Shows in existence.
Her medley of signature songs, "Vogue", "Music" and "Like A Prayer" (interluded with "Open Your Heart" and "Express Yourself") left me glued to my chaise the whole 12 minutes and 42 seconds of her performance.  Since last night's broadcast I have watched her performance oh about 4 or 5 times haha.
But any entrepreneur should note that her performance was sprinkled with product placement and endorsements of all kinds.  Take for example her "Vogue" performance which made the Vogue magazine a focal point of her dance routine.  Her first time performance of "Give Me All Your Luvin'" also helped tie in her NFL endorsement with cheerleaders and poms poms galore.  Madonna put her stamp of approval on various artists throughout her performance she received some special guest boosts from.  Nikki Minaj, LMAFO, Cee Lo Green and M.I.A. (who basically ruined a wholesome performance by flipping the bird.  Not sure Madonna will endorse her so much after her offensive hand gesture).  And to top off some product placement.  Some good 'ol World Peace at the end.  Perfection.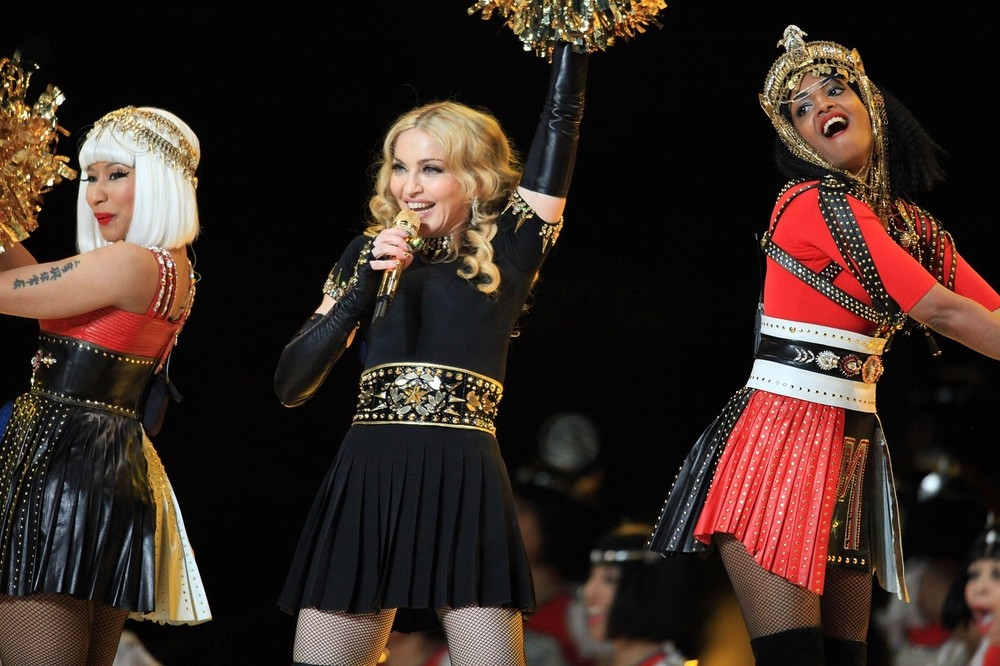 I can't wait to see how her audience of 110 million viewers boosts her records sales and airplay this coming week.  I hope it lands her a nice debut for her new single and then some.  The girl needs it with the imminent threat of rising stars like Katy Perry and Rihanna dominating the charts for the past few years.
Watch her performance below and share your thoughts.  I give her 4.5/5 stars.  Sounded and looked great but missed a few dance steps and her 5 inch stelleto boots hindered her from letting people see how she typically rocks the house like none other.  Viva la Madonna.  I LUV MDNA!
Update 02/23/2012:
Here are the hard numbers of how Madonna's Superbowl Halftime performance rocked the charts.  The numbers are in and let's break it down:
Total Viewership: 117. 8 millions viewers
The largest television audience is broadcasting history
Surpassed the number of viewers watching the Giants/Patriots game by 3 million viewers
Received more viewers than Michael Jackson's 1993 Superbowl Halftime Show performance
Households watching performance: 47.1 million
Week following the Superbowl:
Madonna's overall back catalog single downloads increased from 94,000 to 166,000 from the week prior (up 77%)
Week of February 12, Madonna's "Like A Prayer" sold 49,000 downloads and entered the Hot Digital Songs Chart at #38
Madonna entered the Billboard 50 Social Chart at #8 (her highest ranking)
Madonna's YouTube page saw a 479% increase in fans and 685% increase in views
"Give Me All Your Luvin'" was the #1 Most Added Song Pop Song, week of February 5
"Give Me All Your Luvin'" was the #1 Greatest Gainer Radio Song with over 2,295 spins, week of February 5
"Give Me All Your Luvin'" was the #2 Most Downloaded Song on iTunes, week of February 5
"Give Me All Your Luvin'"  debut at #13 on the Billboard Hot 100 and has peaked at #10 the week of February 12, Madonna gaining her 38th Top 10 single
MDNA, Madonna's 12th studio album was #1 on iTunes album charts in 50 countries (on pre-orders alone)

Make sure to pre-order Madonna's new album MDNA arriving worldwide March 26th and download her new single "Give Me All your Luvin'" featuring Nikki Minaj and M.I.A. today!
*Photos from Madonnarama.com
*Stats from Madonna.com, Madonnarama.com and Billboard.com
Posted in Creative
|
Tagged LinkedIn, Madonna, Madonna 38 Top 10 Singles, Madonna Billboard Hot 100 Singles, Madonna Billboard Hot 100 Top 10 Singles, Madonna Give Me All Your Luvin Hot 100, Madonna Halftime Show, Madonna Post Superbowl Hafltime Show Sales, Madonna Superbowl, Madonna Superbowl Halftime Show, Madonna Superbowl Halftime Show Viewers, Madonna Superbowl Vogue Performance, Madonna Superbowl XLVI, Madonna YouTube Viewers, Post Halftime Show Downloads Increase