March 27, 2012 – 2:46 pm
I <3 Infographics
If complex information and engaging graphics had a baby they would create what is known as "Infographics."  All the rage these days in the social media, inforgraphics are effective and efficient ways of communicating lots of data and information via an easy to read graphic.  They literally give new meaning to the phrase, "a picture is worth a thousand words."
I especially enjoy infographics since I am able to absorb data I want to know about in an entertaining way.  It doesn't feel like I'm spending all day reading an article or researching something.  With an infographic everything is communicated to you quick and dirty.
I'd like to share my top/favorite infographics.  See below:
5 Scientifically Proven Ways to Get More Followers

I posted this infographic awhile back in my HubSpot post but want to re-post.  This is a great quick laundry list of things one should consider when trying to grow their Twitter following.  Dan Zarella is a master of infographics.
Changes in Facebook Insights
Understanding the algorithm Facebook uses to measure your influence through your Facebook Fan page can be a little hazy.  This infographic breaks its down for everyone scratching their heads.

Small Businesses and Social Media
Social media has made it possible for the little man to be heard.  This infographic emphasizes that fact and shows how much of an impact social media is having on the all the ma and pop shops.

The Lifecycle of a Webpage on Stumble Upon
Stumble Upon may not seem like it but it is a very robust social media tool one should aim to attract the attention of.  Links shared by Stumble Upon have a very long shelf-life (even longer than Facebook).  This infographic brings this overlooked insight to light.

The American Identity According to Social Media
Did you know that 6 out of 7 U.S. homes have broadband Internet access?  There are tons of facts a businessperson needs to be caught up on regarding the U.S.'s relationship with social media.   Get the scoop through this infographic.

The Freelancer's Game of Life
 Modeled after the infamous board game, Life, this infographic tells the happy/sad true story of the life of a freelancer.  I myself can certainly identify with this infographic and it gives me a clear view of what paths may lay ahead for little 'ol me.

Inbound Marketing Rising: The Dawn of Marketing You Won't Hate
Gone are the days of the push and pull strategy of marketing.  Say hello to Inbound Marketing, the more interactive, less costly, engaging form of marketing that is taking over the marketing arena.  This infographic has such a cute storyline to it and clearly demonstrates that Inbound Marketing is the way to go these days.

Job Searching with Social Media
Nowadays it's a dog eat dog world when it comes to looking for employment.  Protect yourself from having social media work against you when looking for employment by checking out this infographic.  1 out of 5 employers use social networking sites to research job candidates.  Make use social media work for you in this regard.

Sixty Seconds of Social Media Sharing
When it comes to social media, it's easy to feel like a small fish in a big pond.  That's because you are a small fish in a big pond.  This infographics depicts how much social media content is produced every minute of the day.  It's good to know where you stand in comparison to the social media world at large.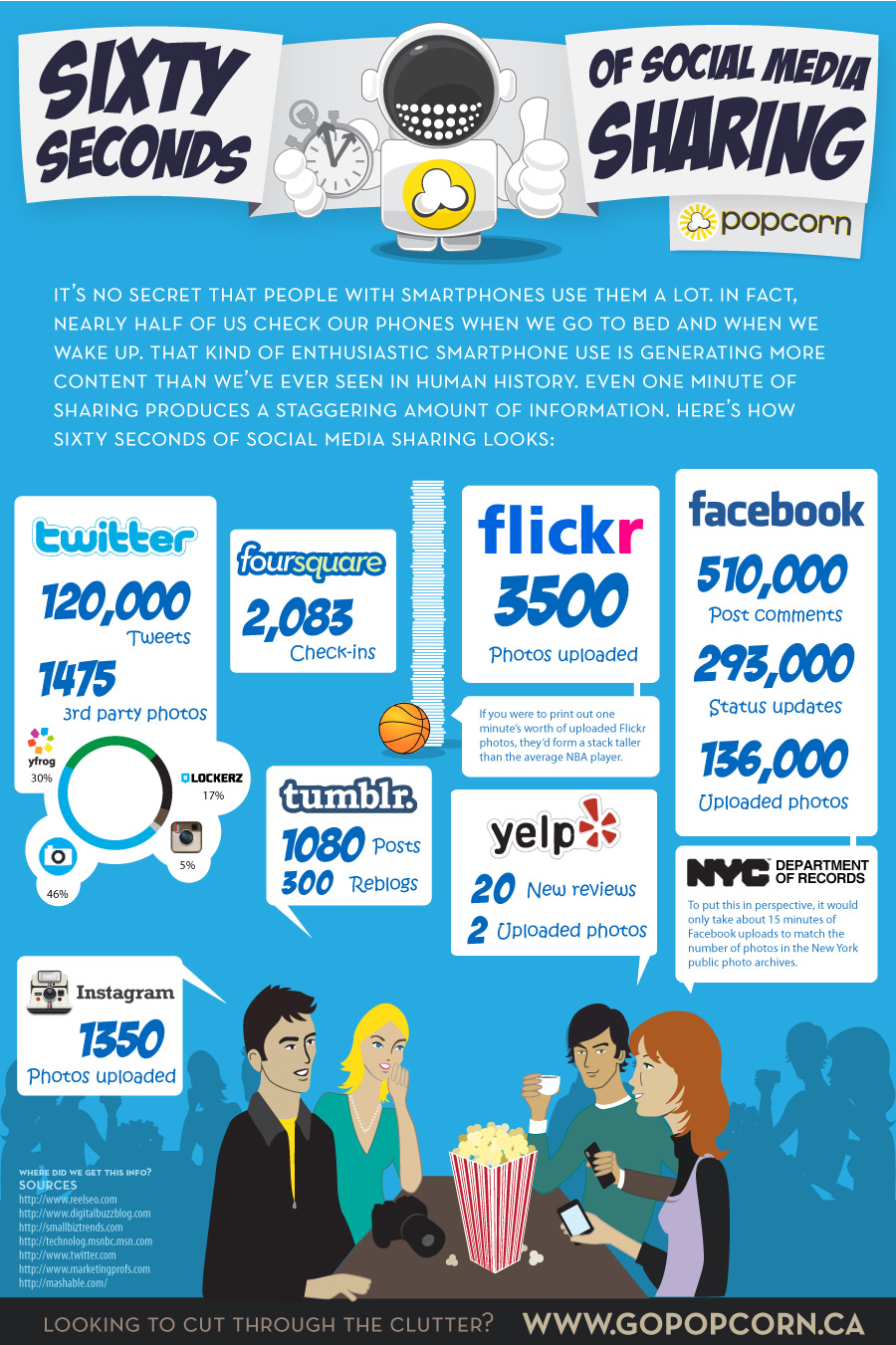 The Relationship Status Update
Facebook is almost a tabloid for other's to see who's in a relationship and who isn't.  This infographic gives you the inside scoop of people's Facebook relationship behaviors and where you match up compared to them.  Surprisingly, most people admit to not being jerks and dumping people online J.  Good to know!

Obsessed with Facebook
What would the world be like without Facebook?  Pretty darn boring if you ask me.  A lot of other people seem to think the same too.  For example, 48% of 18 to 34 year olds check Facebook first thing in the morning.  Find out more tidbits of information that will make you feel less guilty about being attached to Facebook by looking at this infogrpahic.

There's tons of inforgraphics that are popping up on the internet everyday, but these are some of my favorites.  Do you have any other ones that you absolutely l<3ve? Leave a comment below and let your ROAR be heard!
Posted in Creative, Marketing, Social Media
|
Tagged 5 Scientifically Proven Ways to Get More Followers Infographic, 60 seconds social sharing infographic, CareerEnlightenment.com, Changes in Facebook Insights Infographic, Column Five Media, CrowdSpring, Dan Zarella, FreeBooks.com, gopopcorn.ca, Hasai, Infographics, Job-Searching with Social Media Infographic, Lad42, LinkedIn, Lion's ROAR Marketing, marketing infographic inbound marketing rising, NeoGroup Consulting, Obsessed with Facebook Infographic, OnlineSchools.org, small businesses and social-media infographic, stumbleupon life cycle infographic, The American Identity According to Social Media, The Freelancer's Game of Life Infographic, The Relationship Status Update INFOGRAPHIC, Voltier Digital