April 25, 2015 – 4:34 pm
GovLoop Blogging: A Collection of My Posts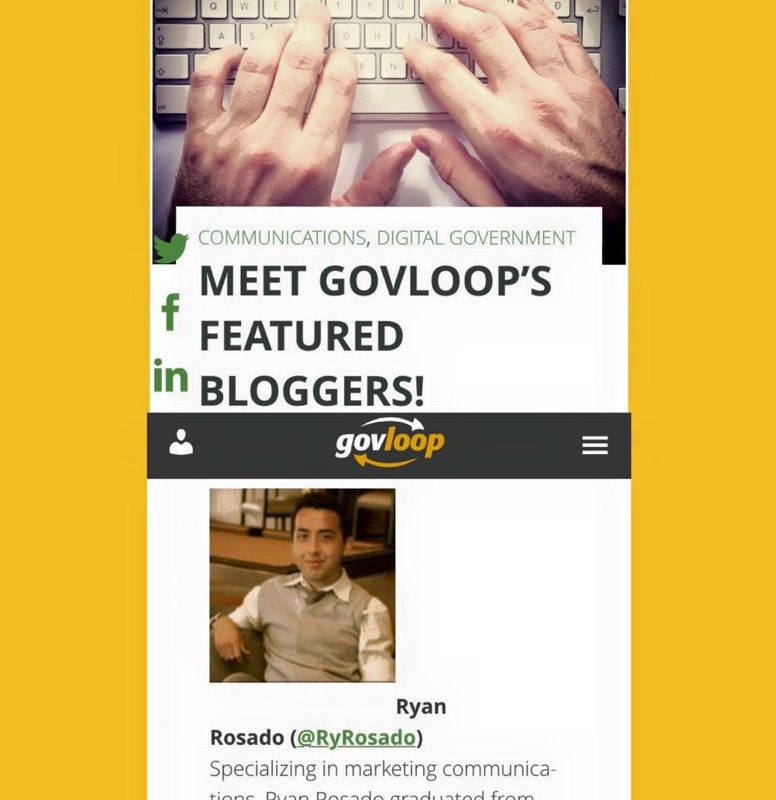 Earlier this year I took on the task of participating in GovLoop's Featured Blogger Challenge.  I submitted my application and ta-da I was selected to be included in their team of bloggers!  From January 9 – March 27, 2015, I produced one blog post per week on topics relating to either being a government employee, workplace matters or communication trends.  You know what they say; only write about what you know.  Below is a collection of the posts I wrote for them.  Enjoy and please check them out:
1.  9 Easy & Engaging Icebreakers for Meetings
2.  Confessions of a Government Employee: Why  I Became A Civil Servant
3.  The Open Office Layout: The Good, The Bad & The Ugly
4.  Case of the Introverted Extrovert
5.  Big Brother and What You Didn't Know About Social Media Activities
6.  Think On Your Feet: Rising to the Occasion of Standing Meetings
7.  On A Mission to Recognition: Why It Matters in the Workplace
8.  Organic Mentoring: Growing Mentoring Relationships Naturally
9.  Origins of Strategic Communications & Public Affairs
10. "The Rules of the Workplace": My Workplace Bible
11.  Achieving Victory With Synergy
12. The Walking Dead & Leadership Styles: When Two Worlds Collide
Working with GovLoop was an amazing experience and one for which I am very greatful for.  It really pushed me as a writer and helped me to challenge myself as a business professional.  Please leave a comment below to share your thoughts about GovLoop (I know they'll all be positive ones) and let your ROAR be heard!
Posted in Business Productivity, Creative, Marketing, Networking, Social Media
|
Tagged Big Brother Social Media, Blogging, Confessions of a Government Employee, Extroversion, Freelance Writing, Government Snapchat, Government Twitter, GovLoop, GovLoop Blogging, Introversion, Introvert Extrovert, Leadership Styles, Meeting Icebreakers, Mentoring, Myers Briggs, Natural Mentoring, Open Office Layout, Open Office Layout Best Practices, Organic Mentoring, Origins of Public Affairs, Public Affairs, Recognition, Richard Templar, Ryan Rosado, Standing Meetings, Standing Meetings Best Practices, Strategic Communications, Synergy, The Rules of the Workplace, The Walking Dead, Top Icebreakers, Workplace Recognition, Workplace Synergy