September 9, 2011 – 6:11 pm
Bolt: Play God With Websites

Do you ever sometimes want to play God with websites and manipulate or take out certain things?  Wouldn't it be cool if there was a tool that would let you do that?  Well there is.  A new online tool called Bolt.
Bolt's mission is "to help turn the pages of the web into "Social Objects" that can be remixed and shared to be, well, less boring."  Founded by the Jamie and Matthew Roche, the Roche brothers have also created other online solutions to allow the barriers to be taken down between the marketer and their customers.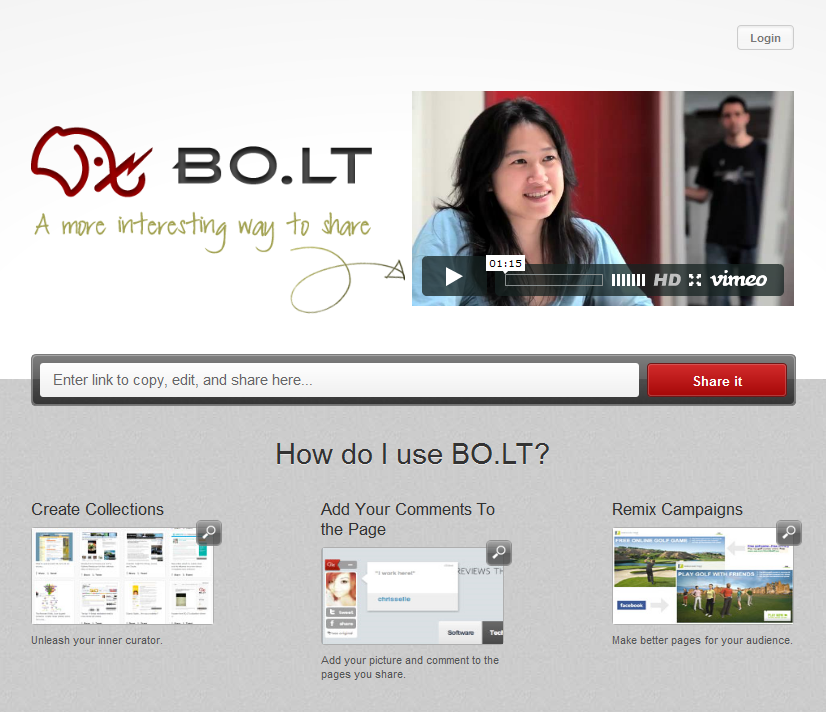 As with many new online tools, I discovered Bolt from one of Social Media Examiner's daily posts that mentioned Bolt as a new tool to check out.  First, I watched the video on Bolt's website to really get a grasp on the idea what this tool could do (watch at the bottom of this post).  The thought that you could manipulate elements of a web page and send to others seemed so abstract to me.  After watching the video, I knew I had to look into Bolt further.
First, visit BO.LT to be directed to the main page.  You can either jump right in by entering a URL for a web page you want to alter or you can sign-up which is available in the right-hand corner.  Signing up is super easy and quick and follows-up with a standard confirmation email once you sign-up.
Once you sign-up you are fully connected to the Bolt community by being able to see other user's Bolt collections and also having the ability to stash away and store things worked on by you within Bolt.
The three main purposes Bolt wants their users to take away from this tool are:
Create Collections:  Show people a compilation of web pages or sites that communicate what you're trying to convey.
Add Your Comments to the Page:  Voice your thoughts about web pages you have something to say about.
Remix Campaigns:  Find a more comprehensive way to communicate to your audience the message from web campaign ads.
Bolt has tons of other features once you sign up too by allowing you to share your Bolt creations on Facebook and Twitter as well as enabling KISSMetrics and Google Analytics tags to track the traffic of what you are sending to others.
Bolt is also especially good for marketing professionals who are looking to incorporate other elements from other websites into their own.  Or if presenting or teaching something related to a particular webpage, Bolt allows you to tailor what you want to present in a specific way and call out certain elements.  No longer in Beta phase, Bolt is ready to take the web by storm.
Of course, one of the greatest things about Bolt is that it is free to use (other paid features are available, contact the makers of Bolt to find out more) and you can use this tool anonymously.  If you have had any previous experiences using Bolt, drop a comment and let your ROAR be heard!  Happy Bolting!