May 4, 2011 – 1:52 pm
5 Key Tools for Effective Facebook Marketing Webinar
It's been awhile since I've really sat down and watched a webinar. But when I got an email to view the "5 Key Tools for Effective Facebook Marketing" hosted by Dan Zarella of Hubspot along with Justin Kistner from Webtrends; I couldn't resist.

I recently have been trying to harness Facebook more as a marketing tool to promote my blog and amplify my online presence as a marketing professional. In addition, in the government contracting/government program world, social media (especially Facebook) has yet to be completely understood. Therefore, this webinar presented a great opportunity to get the latest and greatest information on Facebook Marketing.
As with any Hubspot webinar, you'll get the information you need in the most succinct, easy to understand way. The main takeaways I got from the webinar were:
Facebook Fans:
Facebook Fans are hardcore Facebook users.
Fans click on links 5.1 X more than the average user. This makes them an extremely attractive candidate to communicate to.
83% of Facebook Fans and Users want exclusives and offers.
What drives people to become Facebook Fans?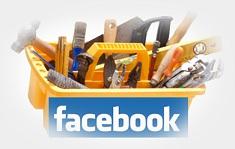 Brand Invite/Ad: 75%
Friends (recommending): 59%
Search: 49%
Most Clicked on Wall Posts:
2-3 X more likely: touching, emotional stories, provocative, passionate debates and….SEX.
1.5-2X more likely: important sports wins and simple easy questions.
Dan Zarella Humor:
"Facebook is the Jersey Shore of social media." (so true and hilarious)
"Showing up is half the game." This means establishing a legit online presence via Facebook (or any other social networks out there) is necessary to protect your brand and business.
The webinar also followed a structure that focused on five main areas. Now all the areas were not fully addressed during the webinar due to time constraints, but come on, it's Facebook, you can talk all day about the awesomeness of Facebook. But here was the structure:
Main takeaways for the areas that were covered:
Website Integration:
You must have a "Like" button very apparent on your website.  I obviously don't have one so apparently but I'm working on it.
Pages:
Places pages are essential if you are a single location and even more imperative if you have multiple locations since you need to cater to all areas you do business in.
Ads:
Image selection is the most important element of the ad. Test your images.
Ads burnout quickly, generally in 3 days.
Ads effectively reach all fans; retains similar principles to email marketing.
Now these are the main takeaways I found from watching this webinar. Of course there's tons of other great information you can only get from watching the webinar in its entirety. At the bottom of the screen you'll find the Slideshare version of this webinar.
Also, a little update on Lion's ROAR Marketing Facebook page. Recently, I've been chipping away at trying to gather more fans to Like my page.  See previous post here. At the moment I only have 27.  Hey, I don't call my business a little dog and pony show for nothing. But anyone who reads this could like my page that would be awesome! I would like all the Likes I can get. Also, I've tried to take advantage of some the newer features of the Facebook Fan pages like the rotating images on the Wall page and Likes (for other Fan pages), so I can share with everyone all the other great resources I write about.
If anyone has other tips on Facebook Marketing that I'm overlooking, please leave a comment and spread the wealth. Let your ROAR be heard!
Posted in Business Productivity, Marketing, Social Media
|
Tagged 5 Key Tools for Effective Facebook Marketing, 5 Key Tools for Effective Facebook Marketing Webinar, Dan Zanrella, Facebook Ads, Facebook Marketing, Facebook Marketing Tools, Facebook Places, HubSpot, Jersey Shore, Justin Kistner, LinkedIn, Lion's ROAR Marketing, Social Media, Webinar, Webtrends